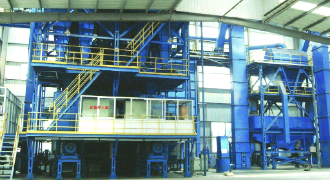 The recycling equipment of resin sand equipment is mainly used for resin sand recycling treatment, including furan resin, phenolic resin, PEP set resin, etc. it is treated by a series of equipment such as Vibrating Sand dropping, primary magnetic separation and transportation, and then enters the sand storehouse for standby through the elevator. First, a continuous double arm sand mixer is set under the sand storehouse to mix the molding sand of core sand or casting.
Resin sand equipment recycling equipment production line structure is compact, simple, high degree of automation, equipment investment is low, production efficiency is high, resin sand equipment occupies a small area, high production efficiency, maintenance and repair costs are very small.
The resin sand equipment is automatically controlled by Japanese original PLC programmable controller, and reliable interlocking protection system is set for the running equipment of the production line, so the operation and monitoring of the whole line of equipment is simple.
The production line of resin sand recycling equipment can increase the purity of sand to 99%, and greatly reduce the amount of resin. The amount of resin is 1% - 1.2%, which can save more than 1 / 3 of resin.